BLOG-1
Collider, Patrick Cooper:
"Director Roel Reiné is one of the better filmmakers of the current DTV action market.  His Death Race 2 and 3 pushed the low-budget action envelope and with his latest, Dead in Tombstone, he continues to deliver the most bang for the buck."
"Dead in Tombstone has some really impressive stunts and set-pieces – from horse-drawn carriage flips to chandelier swings (classic!) and massive explosions – and they're all staged and shot better than most Hollywood action fare.  One particular explosion near the end looks impossibly large, though no CGI was used.  Action fans will definitely want to check out this unique supernatural revenge thriller."
"There's also a short look at Roel Reiné's intense directing style.  The man works super fast, covers everything, and knows exactly what he wants.  I really hope this guy gets some big-budget work soon, but for now, his DTV films are enough to satisfy the most diehard action fans."
Aint it Cool News, Ambush Bug:
"….there's something to be said about the straight up fun revenge flick that DEAD IN TOMBSTONE is
So while this film takes on a typical CROW-like scenario where a shot down character returns for vengeance, it's the performances that make this one stand out as something special.
--director Roel Reiné keeps things moving at a rapid and exciting pace. While DEAD IN TOMBSTONE is not a comic book film, per se, it definitely has its comic book roots with its electric editing and fantastic action sets.
director Roel Reiné seems destined for something bigger after this one."
DesdeHollywood, Nestor Bentancor:
"Danny Trejo Never Looked This Good.
What is really striking is how good everything and everyone in this straight to DVD production look. Some sequences in Dead in Tombstone are better than what you may see in a mega blockbusters. Like Zack Snyder or some Korean directors, Roel Reiné (who also directed Death Race: Inferno for Universal) crafts impressive sequences combining a great photography with slow motion and creative CGI."
The Action Elite, Alex:
"Roel Reine has already proved to the world that he can deliver a great action film on a modest budget, and has become for me, one of the best modern action Directors around today. I always look forward to his upcoming projects, and see what he comes up with next?  For his latest, Dead in Tombstone, he still manages to surprise me. Not only is the quality of this film made for the big screen, but also a nice departure for what Reine has delivered thus far. Dead In Tombstone is so much damn fun, that it will most definitely be apart of my top 5 for 2013. I loved every single minute of it
You don't see that kind of  "coolness" in theatrical films
Great acting from the entire cast. Some very awesome and inventive action scenes. Anthony Michael Hall and Mickey Rourke have scene stealing performances. Roel Reine's best film to date!
It is an absolute sin that majority of people will pass this movie by as being a typical low budget DVD action film.
Roel is a filmmaker that needs to be more recognized for being one of the very best in his field right now."
We Got This Covered, Matt Donato:
"action was at a premium"
"Reiné knows what it takes to make an entertaining shoot em' up film, and focuses on those moments to drive a ho-hum story along – starting with the casting of Danny Trejo."
"Reiné builds a beautifully visual set that transports us back to the times of John Wayne."
Influx Magazine, Ed Blackadder:
"Director Roel Reiné, king of straight-to-DVD schlock, is certainly capable of knocking out a watchable film, and, I'd have to say, he's upped his game with this Western/Fantasy fare."
TS Alan:
"Dutch born Roel Reiné has already proven himself to be a top-notch action director with movies like Death Race 2 and 12 Rounds: Reloaded. His latest directorial release is no exception.
Dead In Tombstone with its supernatural elements is a gritty vengeance Western that delivers enough shootouts, chase scenes, and explosions to make it an action-packed and entertaining film."
Dennis Lamers:
"Damn good film by filmmaker Roel Reine!
Funny thing; Dina Meyer is directed for a second time by a dutch filmmaker. Roel makes her act better than Verhoeven ever did in Starship Troopers."
Kenny Howes:
"I trust you'll find it more entertaining than The Lone Ranger which probably cost about 20 times as much to make."
Alsh Wenbear:
"The direction and writing is at his best, and considering its budget very well done, the editing keeps the pace of the movie and the soundtrack keeps up with it, it reminded me of those old movies where the actors where "forced" to act, back then when CGI wasn't so imposing.
I like this movie better than I did "Machete" with all its stars. Sometimes, less is better!"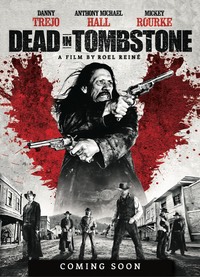 August 2014 sees the 3rd movie in 'The Expendables' series and I'm hoping that it can finally deliver on the promise of the phenomenal cast.
Let's face it; the best thing about The Expendables 2 was Jean-Claude Van Damme but the script is so irredeemably terrible that it nearly makes the movie unwatchable upon future viewings.
I still enjoy it but I'm hoping Part 3 can finally make the ultimate Expendables movie with great action AND a half-decent script.
At this point it's an unknown quantity because the director hasn't done that much so if we get a Part 4, there are several directors I would love to see get a shot at the franchise. Here are my choices.
Isaac Florentine: When I spoke to him a few weeks back Isaac admitted that he'd love to direct a big budget action flick and I think he is the number 1 choice for The Expendables. His knowledge of the genre is outstanding and the man can create stunning fight scenes with a minimal budget. Imagine what he could do with $100 million. If you haven't seen any of Isaacs's movies then check out Ninja: Shadow of a Tear and Undisputed 2 & 3 and you'll see what a REAL action director can do.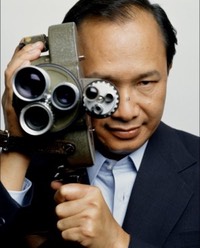 John Woo: If ever there's a director I miss from Hollywood it's John Woo. Hard Target and Face/Off are two of my favourite movies and Woo is another director who said he would love a shot at directing an Expendables movie. With his balletic action and incredible style he could bring a class to the franchise that has so far been lacking.
John McTiernan: Somebody bust his ass out of jail and give the man this franchise. He created Die Hard and Predator so his record is already sound. Imagine if the Expendables movies actually had decent dialogue to match the action; he is definitely one of my top choices and I miss seeing his movies.
Paul Verhoeven: Where the Hell is he anyway? Let's get a script from Ed Neumeier with some satire thrown into the Hard R action and we've got ourselves a winner. With classics such as RoboCop, Total Recall and Starship Troopers under his belt, he'd be a perfect choice. There'd be none of that PG-13 bullshit, that's for damn sure.
Justin Lin: The man who reinvented the Fast & Furious series is now looking for a new big budget franchise and with his experience with awesome action scenes then he's kinda perfect.
George Tillman Jr.: You may be thinking "Who?" but he directed the incredibly underrated Dwayne Johnson movie 'Faster' in 2010 which is a lot better than people give it credit for. It's a dark tale about how we create our own Hell and are essentially responsible for the way our lives end up. It doesn't have any self-reverential humour and is a pretty hard R action thriller. I think he could bring something special to The Expendables franchise and possibly give it some much needed heart.
William Kaufman: The director of Sinners & Saints is no stranger to old-school action and he's another director who can do a lot with a small budget. He's essentially the next Michael Mann who can mix style with kick-ass action and I'd love to see what he could do with a budget.
Gareth Evans: Kind of an obvious choice, but the director of The Raid deserves a BIG US Blockbuster and what is more perfect than this series?
Jesse Johnson: The director of The Package and creator of the awesome Wonder Woman fan film deserves a decent budget and with his experience of working with Dolph Lundgren, he is an ideal choice for Expendables. 
Roel Reiné: Another director who is used to more Indie fare, it's about damn time he was given a big budget franchise like The Expendables. His work on Death Race 2 & 3 and Dead in Tombstone have totally demonstrated that he can do great action scenes, have plenty of style but not require a massive budget.
You may be noticing a theme here; I keep choosing directors who are used to working with smaller budgets. I think if the Expendables movies spent less time on salaries and more time on script and story, we could finally get a genuinely classic action movie with the greatest cast of all time.
Oh and how about we get Shane Black to write it so we can have some quality one-liners too?